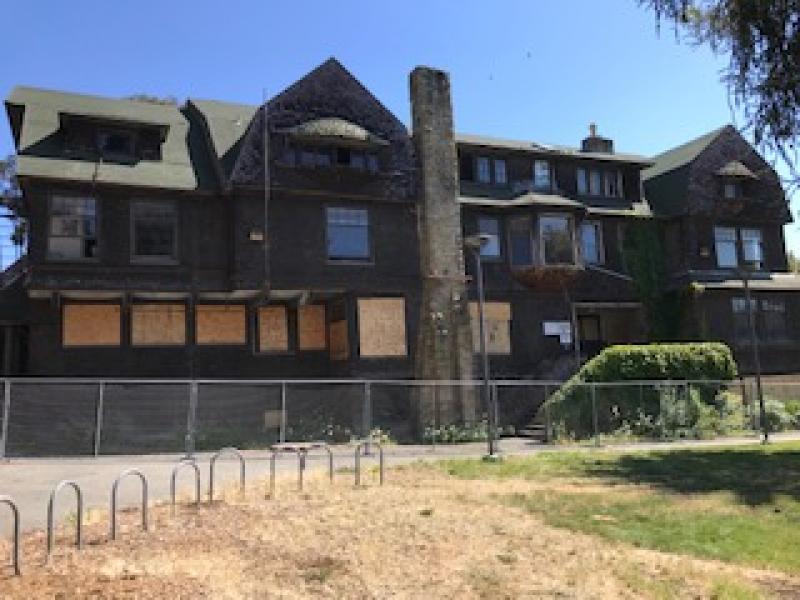 Following the encouraging endorsement in March from all Berkeley City Council members to save Anna Head School, it was a sad day on May 2 when there was a fire at the school.  As we reported at the time, a fire broke out at the base of Gables, spread to the walls, and burned through the roof.  Although the fire is still under investigation, fire personnel at the scene said the likely cause was due to one of the many homeless people living on the site.  In the previous year, we had reported on three fires and had asked the University to secure the school and fence the property.  The response to the fire from the community was immediate, with expressions of frustration, anger, and sadness. 
The UC Berkeley responded quickly to the emergency, fencing the property, boarding up Gables, Channing and Study Hall, and arranging for a security service.  After the May fire, the University hired a disaster recovery service to clear the damage to Gables and an engineer to assess the extensive fire and water damage.  The Institute for the Study of Societal Issues (ISSI), the UCB research institute housed at Anna Head School for almost 50 years, has now been relocated to downtown Berkeley.  As of mid-June, the Anna Head School is shuttered and vacant, and the adjacent Peoples Park has mostly been cleared of the homeless encampments.
In late May UC Berkeley advised the Anna Head School Steering Committee of its intention to implement the Master Plan that the University announced in March. The Plan will focus in part on student life issues, and consider for the Anna Head site additional housing, student life spaces, a dining commons, and early childhood daycare, among other possibilities. In the near future, the University will issue an RFQ for a professional to help them with the master plan process.  It is anticipated that the planning process will take the coming academic year.
The committee working to Save Anna Head School will continue to seek engagement with the University about the future of the school.  We believe restoring the historic Anna Head School is a win-win, for UC Berkeley, for the City of Berkeley, and its historic legacy.  For further information about the campaign to save Anna Head School (annaheadschool.org) contact: Paul Chapman, pchapman5@gmail.com.