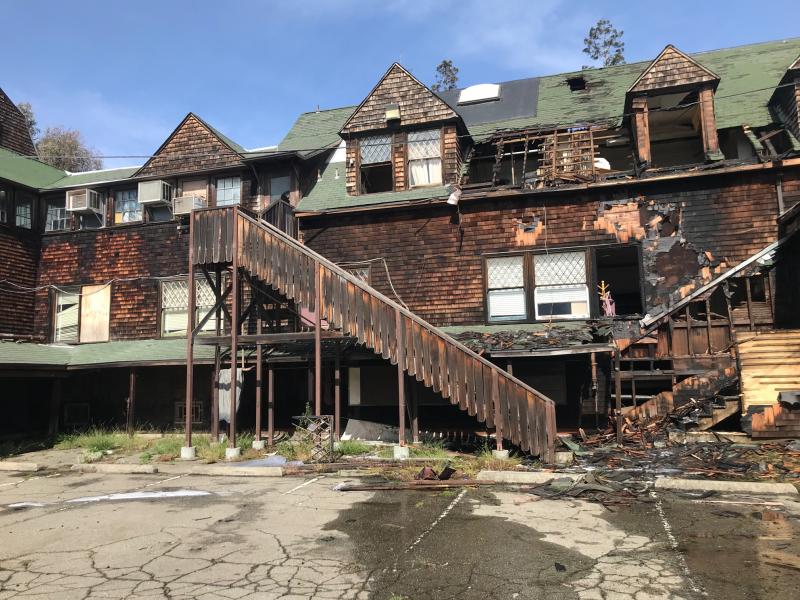 On Monday, May 2 there was a devastating fire at the Anna Head School that we have been working hard to save for several years.  Just before noon, a fire broke out at the base of one of the school buildings known as the Gables, quickly spread to the walls and burned through the roof, according to fire personnel at the scene.  The Berkeley Fire Department responded with 8 fire trucks, 4 ambulances and many personnel, rescuing four people trapped on the second floor, battling the blaze, and eventually extinguishing the fire fully several hours later.  Alerted to the fire, I rushed to the scene just minutes after it began, and I watched smoke billowing out of the building, flames licking up the side walls and erupting through the roof, severely damaging the structure.  I am devastated that this elegant building, which is on the National Register of Historic Places and is over 120 years old, has suffered a major loss.   I am grateful that the Berkeley Fire Department worked heroically to put the fire out, and that no one was injured.  We understand that UC Berkeley is conducting an investigation, and we hope to learn soon what caused the fire and what the University will do to restore this historic building.  I am really heartbroken.
Paul Chapman, Chair, Save Anna Head School Steering Committee
The photo I took at the scene later on Monday shows the extent of the damage. 
See the Berkeleyside article for fuller details: https://www.berkeleyside.org/2022/05/02/2-alarm-fire-at-anna-head-school-prompts-evacuation